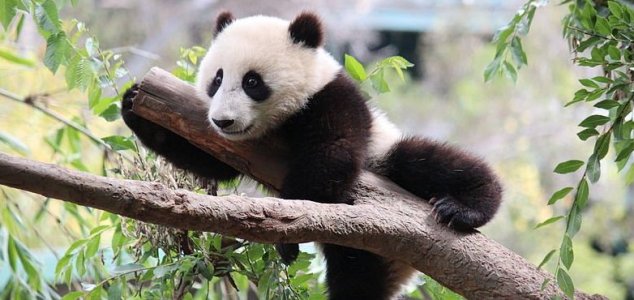 What is the purpose of the panda's unusual black and white fur ?

Image Credit: CC BY-SA 3.0 jballeis
Scientists have come up with a new theory to explain the panda's distinctive monochrome coloration.
Mammals aren't particularly well known for their exotic fur coloration, mainly due to the fact that drab, earthly tones often help them to stay concealed either from predators or from prey.
Bears are a prime example, with most species exhibiting coloration to help them blend in to their surroundings. Polar bears are white for instance while grizzly bears have shaggy brown fur.
Pandas however are a different story altogether. Native to the remote mountainous regions of central China, these unusual creatures exhibit a distinct black and white fur coat which, in their dense forest home, might at first glance seem like an unusual choice for camouflage.
"Understanding why the giant panda has such striking coloration has been a long-standing problem in biology that has been difficult to tackle because virtually no other mammal has this appearance, making analogies difficult," said biologist Tim Caro.
To get to the bottom of this mystery, scientists at the University of California and California State University decided to divide up the panda's coloration in to independent areas and then compare them to similar areas of coloration found on 195 other species of mammals and bears.
Their findings suggested that the panda's black and white coat might actually serve two purposes.
Unlike other bears, pandas cannot hibernate, so their fur coat must help conceal them all year round - including when it snows in the winter.
Their black eyes and ears, in addition to serving as a warning to would-be predators, may also help individual pandas identify one another with each animal possessing a slightly different pattern.
"The breakthrough in the study was treating each part of the body as an independent area," said Caro. "It is always possible that a patch of fur has evolved for a different purpose than in other carnivores."
Source: Washington Post | Comments (3)
Tags: Panda