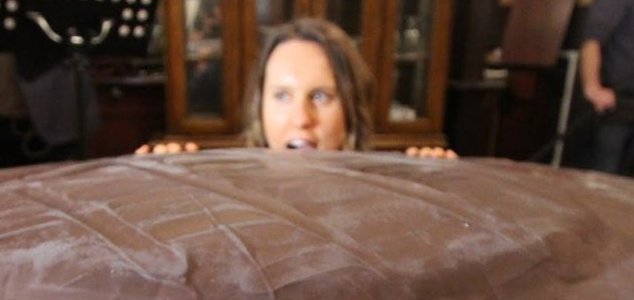 Fancy a bite ?

Image Credit: YouTube / Guinness World Records
The enormous chocolate-covered delicacy contained 13.4 pounds of caster sugar and 13.4 pounds of flour.
The bizarre creation was put together by the staff at Hambleton Bakery in Rutland, England along with Frances Quinn - winner of the popular cooking series 'The Great British Bake Off'.
Jaffa Cakes, which contain a sponge base, orange center and a coating of chocolate, are typically very small and can be eaten in a couple of bites, but this one, which was so large that the jelly center alone needed two men to lift it, easily earned itself a place in the record books.
"It was a massive challenge, not least because I don't think I've ever made a Jaffa cake before," said head baker Julian Carter. "Getting hold of the ingredients was the first hurdle, and a board big enough to bake it on. Everyone had a lot of fun in the end."
"And to go into the Guinness World Records book is some achievement for everyone involved."
Source: UPI.com | Comments (2)
Tags: Jaffa Cake