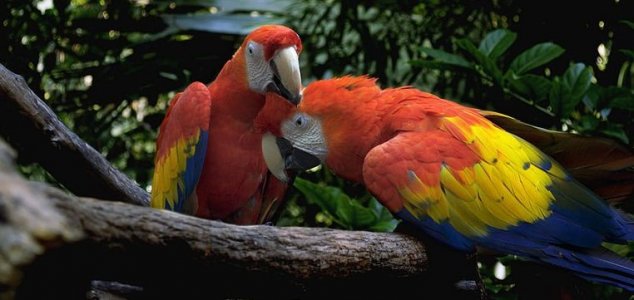 Macaws were highly prized and respected.

Image Credit: CC BY-2.0 Hillary Kladke
Ancient Native Americans valued macaw feathers so highly that they went to great lengths to farm them.
From around AD 300 to AD 1450, ancient Native American peoples such as the Puebloans were known to have kept and bred macaws in captivity so that their feathers could be plucked.
New evidence presented at a recent meeting of the Society for American Archaeology in Canada has suggested that this practice occurred all across the American Southwest.
To the people of the time, these brightly colored feathers were not only adornments but important status symbols and spiritual emblems that made them highly prized and valuable.
Evidence of this practice was found in the form of macaw skeletons exhibiting signs of feather loss as well as small bumps indicative of infection where the feathers had been repeatedly removed.
Despite this though, there were also signs that the macaws had been very well looked after.
"People were doing their utmost to keep them alive," said archaeologist Randee Fladeboe. "To say that they only cared about them [for] their feather output would be to do them a disservice."
Source: Nature.com | Comments (2)
Tags: Maccaw, Feathers