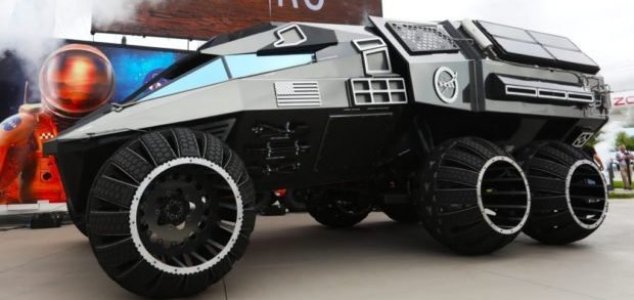 Is this the future of manned Mars exploration ?

Image Credit: NASA / Kim Shiflett
The futuristic vehicle, which is designed to operate on Mars, was unveiled at the Kennedy Space Center.
Looking more like something Batman might drive than a real-life Mars buggy, the futuristic concept vehicle, which was shown at the Kennedy Space Center Visitor Complex earlier this week, offers a glimpse at what the astronauts of the future might one day use to explore the Red Planet.
Revealed as part of the center's "Summer of Mars" promotion, the rover, which was built based on the input of a panel of NASA experts, runs on an electric motor.
Its 700-volt battery is powered by solar panels and the entire vehicle can split in two with one half capable of scouting out the Martian terrain while the other operates as a laboratory.
While this particular design won't actually be making it to Mars, future Mars rovers will likely borrow many of the ideas on show here for use on the Red Planet.
"We hope this will encourage young people to want to learn more about being a part of the effort to go to Mars," said Kennedy visitor complex assistant manager Rebecca Shireman.
Source: Inquirer.net | Comments (5)
Tags: Mars