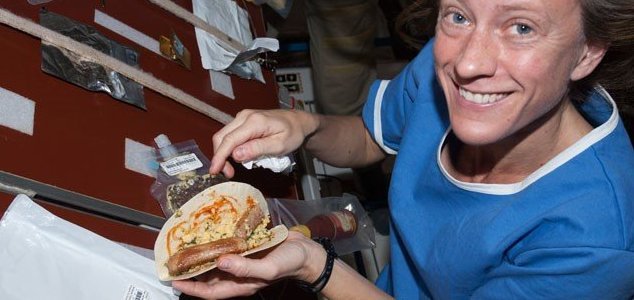 Astronauts typically eat tortillas as oppose to bread.

Image Credit: NASA
A new type of crumb-free dough mixture could help to improve the selection of foods available in space.
The new creation, which was developed as part of a renewed effort to provide astronauts with a greater selection of fresh foods to choose from on long missions, will be tested inside a special space oven that has been designed to work aboard the International Space Station.
Regular bread is actually considered to be a hazard in space because it creates lots of crumbs which can fly in to someone's eye or end up stuck inside the walls where they can catch fire.
One infamous incident saw two astronauts smuggle corned beef sandwiches aboard the 1965 Gemini 3 mission - a move that caused such a fuss that bread ended up being banned outright.
To get around this problem, Germany's "Bake In Space" has been working closely with food scientists and the German Aerospace Center to produce a unique crumb-free recipe.
"The comforts of home, like the smell of fresh baked bread, could energise astronauts physically and psychologically," said Jennifer Levasseur of the Smithsonian National Air and Space Museum.
Source: New Scientist | Comments (3)
Similar stories based on this topic:
Tags: Astronaut, Bread