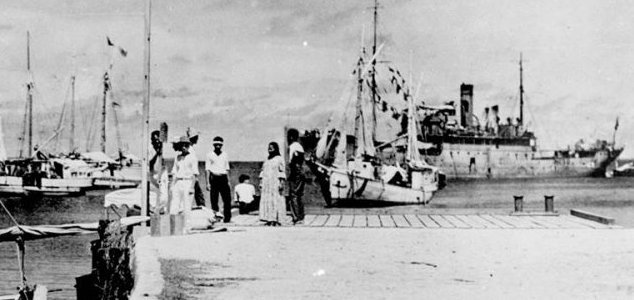 Is the woman sitting on the dock in the white shirt Amelia Earhart ?

Image Credit: National Archives
A photograph pulled from the National Archives appears to show Earhart at a dock on the Marshall Islands.
When the famed aviator disappeared over the Pacific Ocean during an attempt to circumnavigate the globe in her Lockheed Model 10 Electra in 1937, the question of what happened to her would go on to become one of the most enduring mysteries of the modern age.
More recently however, there has been a growing body of evidence to suggest that Earhart, along with her navigator Fred Noonan, may have actually survived for several days on a desert island after crashlanding somewhere in the Pacific atoll of Nikumaroro.
Now a new photograph dug out of the National Archives, which shows a young woman sitting on a dock on the Marshall Islands, is being touted as evidence that she not only survived, but was also rescued. It is also possible that the man on the far left of the picture is Fred Noonan.
While it is far from clear that the woman in the photograph is Earhart, the possibility that it could be her will be explored in detail in a new History Channel documentary at the weekend, just in time for the 80th anniversary of her mysterious disappearance.
Did Earhart live out her days off the grid ? Was she captured by the Japanese ?
Even if the woman in the picture is her, it certainly raises more questions than it answers.
The documentary,
Amelia Earhart: The Lost Evidence
, premieres on Sunday, July 9 on History.
Source: History | Comments (36)
Similar stories based on this topic:
Tags: Amelia Earhart