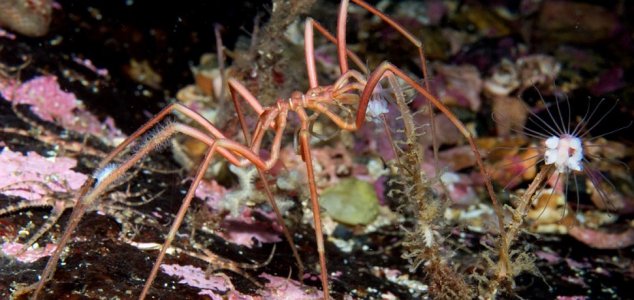 Sea spiders can grow to be quite large.

Image Credit: CC BY-SA 4.0 Bernard Picton
With bodies consisting almost entirely of legs, these undersea arthropods are truly bizarre creatures.
Sea spiders, which despite their name are not actually arachnids, have such small bodies in relation to their legs that most of their internal functions are confined within their limbs, not their abdomen.
While previous studies had already determined that sea spiders use their legs for breathing, digestion and even reproduction, new research has revealed that they also use them for pumping blood as well.
"Unlike us, with our centrally located guts that are all confined to a single body cavity, the guts of sea spiders branch multiple times and sections of gut tube go down to the end of every leg," said lead author Dr Art Woods of the University of Montana, Missoula.
"My 'aha!' moment was to consider that maybe all that sloshing of blood and guts was not about digestion but instead about moving respiratory gases around."
"The findings highlight the vast evolutionary diversity of solutions to problems that all animals encounter."
Source: The Atlantic | Comments (1)
Tags: Sea Spider