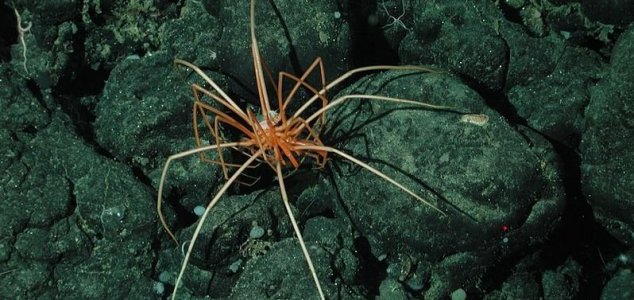 How does something this big survive in such cold water ?

Image Credit: NOAA
Scientists have determined how sea creatures living in the depths of the polar oceans become so enormous.
With leg spans of up to 50cm - these gargantuan eight-legged marine arthropods might resemble the spiders we find on land but they are in fact a completely different type of creature.
Now scientists have solved one of the biggest mysteries surrounding these deep-sea giants - that of how they are able to survive in the cold depths - and it is all to do with holes in their exoskeletons.
The researchers had been investigating what is known as the oxygen-temperature hypothesis which suggests that creatures living in very cold water are able to grow large because they have slow metabolisms and because colder water is able to hold more oxygen than warmer water.
Surprisingly however, this turned out not to be the case. Instead, the researchers found that the larger the creature, the more porous its exoskeleton became - thus allowing it to absorb more oxygen.
"The exoskeletons of the really big ones look almost like Swiss cheese," said doctoral student Caitlin Shishido. "We were amazed that not only could the giant animals survive at much higher temperatures than they usually see, but they dealt with warm temperatures just like the smaller ones."
"That's not supposed to happen; larger animals should exhaust their oxygen supply and run out of gas much sooner than small ones."
Whether these undersea giants could live for long periods in warm water however remains unclear.
Source: Live Science | Comments (3)
Tags: Sea Spider