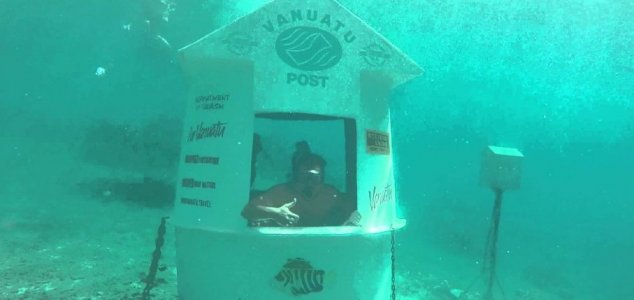 Need some stamps ?

Image Credit: YouTube / JC Collins
Located off the coast of Vanuatu, this unique post office allows you to send postcards underwater.
The peculiar establishment, which is situated 10ft beneath the surface of Mele Bay, opened in 2003 after the postmaster came up with the idea over drinks with a local resort owner.
Open to anyone with the ability to actually reach it, the post office offers scuba divers and swimmers with sufficient lung capacity the opportunity to post waterproof post cards entirely underwater.
"Every week hundreds of postcards are dropped off at the underwater post office," said postal manager Vira Timbaci who is responsible for ensuring that the mail gets collected each day.
"The number goes up when cruise ships come into port."
A flag displayed at the water's surface indicates to visitors that the post office is open for business while a post box is available on terra firma for those without sufficient diving experience.
"Swimming to the post office is a great way to see the local sea life," said Timbaci.
Source: Smithsonian Magazine | Comments (13)
Tags: Underwater Post Office