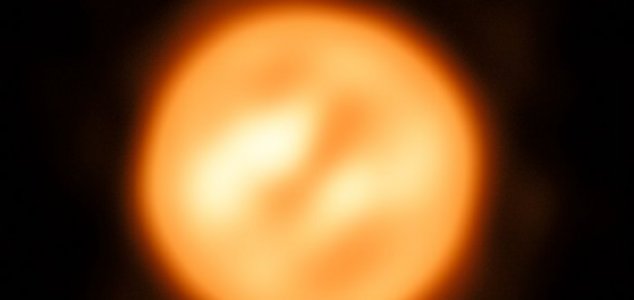 The image shows Antares in unprecedented detail.

Image Credit: ESO/K. Ohnaka
Astronomers have managed to piece together an incredibly detailed image of a distant supergiant star.
The team, which was led by Keiichi Ohnaka of the Universidad Catolica del Norte in Chile, used ESO's Very Large Telescope Interferometer to piece together the surface of Antares - a distinctive supergiant star situated in the constellation of Scorpius.
To create the image, the astronomers used the VLTI to map the star's surface and to measure the motions of its surface material.
"How stars like Antares lose mass so quickly in the final phase of their evolution has been a problem for over half a century," said study co-author Keiichi Ohnaka.
"The VLTI is the only facility that can directly measure the gas motions in the extended atmosphere of Antares - a crucial step towards clarifying this problem."
"The next challenge is to identify what's driving the turbulent motions."
A 3D animation of the star can be viewed below.
Source: Astronomy Now | Comments (18)
Tags: Antares