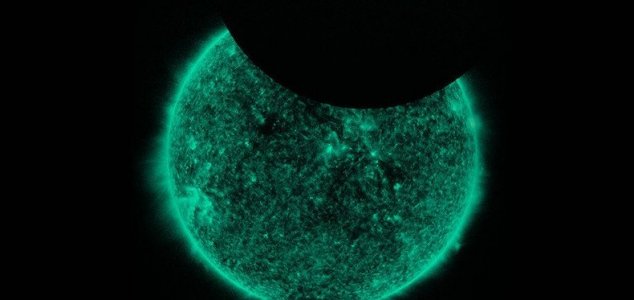 The Moon temporarily interrupted observations on Thursday.

Image Credit: NASA
Solar observations made by a satellite were interrupted this week when the Moon made a sneaky appearance.
NASA's Solar Dynamics Observatory (SDO) satellite, which was launched back in 2010, captures ultraviolet images of the Sun in an effort to better understand how our star influences the Earth.
On October 19 however, the satellite's camera was spectacularly interrupted when the familiar visage of the Moon popped in to view during a fleeting lunar transit which lasted for around 45 minutes.
"Moon's shadow obstructs SDO's otherwise constant view of the Sun, and the shadow's edge is sharp and distinct, since the Moon has no atmosphere which would distort sunlight," NASA wrote.
Source: BT.com | Comments (1)
Tags: Sun, Moon