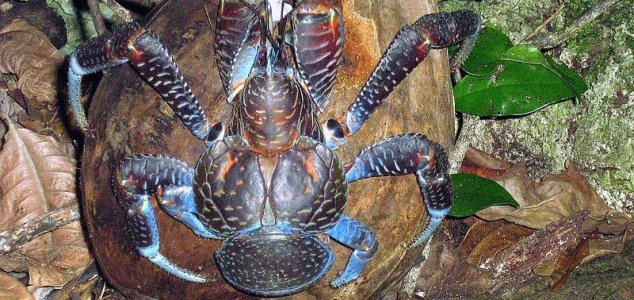 Coconut crabs can grow to enormous sizes.

Image Credit: CC BY 2.0 fearlessRich
If the famed aviator really had crash-landed on the atoll of Nikumaroro, what happened to her remains ?
When Amelia Earhart disappeared over the Pacific Ocean during an attempt to circumnavigate the globe in her Lockheed Model 10 Electra in 1937, the question of what happened to her would go on to become one of the most enduring mysteries of the modern age.
More recently however, there has been a growing body of evidence to suggest that Earhart, along with her navigator Fred Noonan, may have actually survived for several days on a remote Pacific island.
While no sign of their remains has been found so far, some researchers have suggested that, having succumbed to hunger and thirst, Earhart and Noonan may have become victims to something even more unexpected - the coconut crab - a giant land-dwelling arthropod that can grow up to 3ft across.
Notorious for grabbing and carrying away any potential source of food left on the ground, these huge crustaceans could have easily viewed Earhart's remains as an easy meal.
If true, this would make the chances of finding her bones on Nikumaroro very slim indeed.
Source: News Week | Comments (16)
Similar stories based on this topic:
Tags: Amelia Earhart