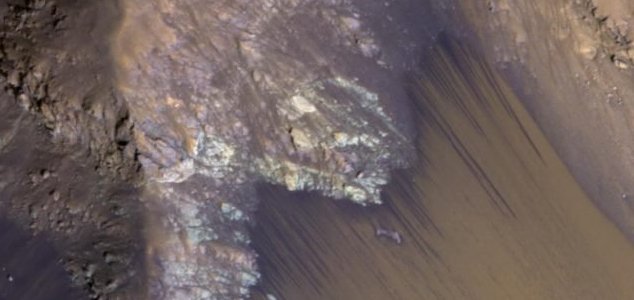 Are the darker streaks evidence of water ?

Image Credit: NASA / JPL-Caltech
Dark streaks on the Martian surface thought to be evidence of water may actually be little more than sand.
Back in 2015, there was much excitement in the scientific community when NASA's director of planetary science, Jim Green, declared that evidence of liquid water had been found on Mars.
Now though, a new study has cast this discovery in to serious doubt by suggesting that the dark streaks observed on the planet's surface may actually be little more than sand dunes.
Known as Recurring Slope Lineae (RSL), these distinctive surface features have been described by researchers as 'inconsistent with models for water sources' and are instead 'identical to the slopes of sand dunes where movement is caused by dry granular flows'.
"Water almost certainly is not responsible for this behavior, which would require the volume of liquid to correspond to the length of slope available, producing more liquid on longer slopes," they wrote.
Source: Sky News | Comments (36)
Tags: Mars, Water