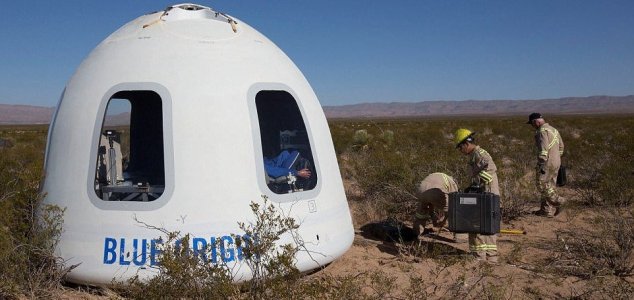 The mannequin suffered no damage during its trip to the edge of space.

Image Credit: Blue Origin
Private space firm Blue Origin has completed a successful test launch of its rocket and crew capsule.
The New Shepard suborbital spacecraft, which is being designed with space tourism in mind, blasted off from the company's West Texas launch site on Tuesday carrying a sensor-laden dummy named 'Mannequin Skywalker' in honor of a familiar character from the
Star Wars
franchise.
The capsule, which has been equipped with large windows to offer future passengers a breathtaking view, soared to an altitude of 98km before separating from the rocket and parachuting back down.
The booster stage also came in for a controlled landing on the launchpad.
Blue Origin and Amazon founder Jeff Bezos later stated that the dummy 'had a great ride'.
Source: CBC.ca | Comments (25)
Tags: Blue Origin