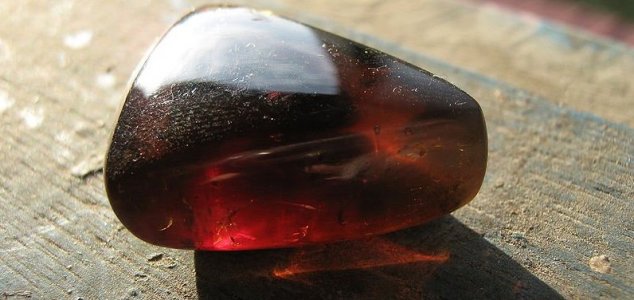 The parasites date back to the mid-Cretaceous.

Image Credit: PD - Sebakoamber
Palaeontologists have discovered prehistoric parasites that once fed on the blood of dinosaurs.
Identified as a new species of tick dating back almost 100 million years, the insects were discovered inside amber unearthed in Burma and are the oldest known blood-sucking parasites ever found.
The species has been named
Deinocroton draculi
, or "Dracula's terrible tick".
The parasites were preserved alongside what appear to be dinosaur feathers, suggesting that they would have fed primarily upon meat-eating therapod dinosaurs.
One of the ticks in particular was so gorged on blood that it had swollen to eight times its normal size.
"The fossil record tells us that feathers like the one we have studied were already present on a wide range of theropod dinosaurs," said palaeobiologist Dr Ricardo Perez-de la Fuente.
"Although we can't be sure what kind of dinosaur the tick was feeding on, the mid-Cretaceous age of the Burmese amber confirms that the feather certainly did not belong to a modern bird."
Sadly though, unlike in the movie
Jurrasic Park
, retrieving DNA from the amber is not possible.
"Assessing the composition of the blood meal inside the bloated tick is not feasible because, unfortunately, the tick did not become fully immersed in resin and so its contents were altered by mineral deposition," said University of Barcelona researcher Dr Xavier Delclos.
Source: Independent | Comments (12)
Tags: Parasite, Amber, Dinosaur