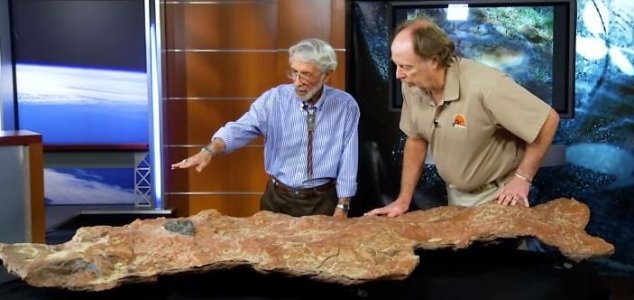 Dozens of tracks were discovered.

Image Credit: YouTube / NASA Goddard
100 million-year-old dinosaur and mammal tracks have been found at NASA's Goddard Space Flight Center.
The unexpected discovery was made by local dinosaur track expert Ray Stanford whose wife happens to work at the space center. He spotted the outcrop on a hill behind one of the buildings after dropping her off at work one day and decided to go and investigate.
What he ultimately unearthed was an extensive series of both mammal and dinosaur tracks - more than 70 in all - dating back over 100 million years to the Cretaceous Period.
The find offers a rare glimpse of mammals and dinosaurs interacting.
"The concentration of mammal tracks on this site is orders of magnitude higher than any other site in the world," said palaeontologist Martin Lockley from the University of Colorado, Denver.
"I don't think I've ever seen a slab this size, which is a couple of square meters, where you have over 70 footprints of so many different types. This is the mother lode of Cretaceous mammal tracks."
An analysis of the dinosaur tracks found at the site has revealed the presence of two nodosaurs, a sauropod, several small therapods and even a few pterosaurs.
"It's a time machine," said Stanford. "We can look across a few days of activity of these animals and we can picture it. We see the interaction of how they pass in relation to each other."
"This enables us to look deeply into ancient times on Earth. It's just tremendously exciting."
Source: NASA.gov | Comments (11)
Tags: Dinosaur