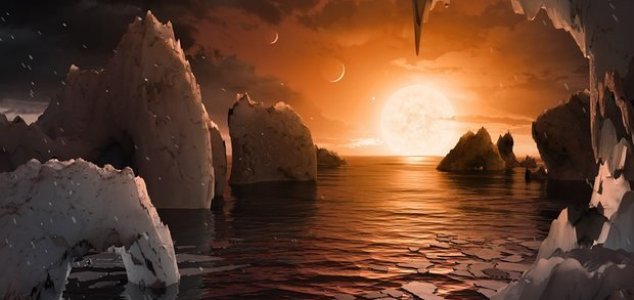 Could there be alien life within the Trappist-1 system ?

Image Credit: NASA/JPL-Caltech
It is looking increasingly likely that the Trappist-1 system's seven worlds could be home to alien life.
Back in February 2017, NASA scientists announced the discovery of seven extrasolar planets in orbit around Trappist-1, a star situated approximately 40 light years away from the Earth.
It was the first time that such a large number of Earth-sized worlds had ever been found within a single solar system and there appeared to be a good chance that at least one of them could be habitable.
Unsurprisingly, scientists have been attempting to learn more about the Trappist-1 system ever since and now four new studies have been published revealing what they have found.
Produced in collaboration with University of Birmingham astronomer Dr Amaury Triaud, the research sought to refine what we know about the star itself as well as the mass and radii of its planets.
The researchers discovered that all seven of these extrasolar worlds are made of rock with up to 5 percent of their mass being water - a sizable amount compared to the Earth's 0.02 percent.
All seven of them are also thought to be temperate, meaning liquid water could exist on their surfaces.
The race is now on to determine which of the planets is the most likely to support life.
"After discovering this incredible planetary system our team was extremely eager to know more about Trappist-1," said Dr Triaud. "A year on, we are reporting our results. Thanks to our efforts the Trappist-1 planets are becoming the best studied worlds outside the Solar system."
Source: Phys.org | Comments (10)
Tags: Trappist, Exoplanets