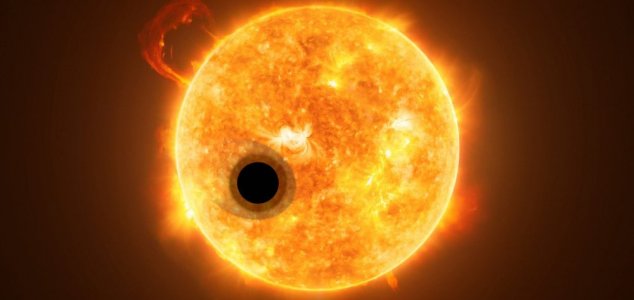 WASP-107b is around the size of Jupiter.

Image Credit: ESA/Hubble, NASA, M. Kornmesser
For the first time ever, scientists have detected helium in the atmosphere of a planet in orbit around a distant star.
The discovery, which was made by exoplanet hunter Jessica Spake and colleagues, involved using the Hubble Space Telescope to observe a relatively nearby exoplanet named WASP-107b.
The planet is particularly hostile to life with a sweltering atmospheric temperature of 500C.
Detecting the helium involved waiting for the planet to pass in front of its parent star and then analyzing the light passing through its atmosphere.
Unlike in previous studies however, the team studied it in infrared rather than ultraviolet wavelengths.
"This is a new method to probe the upper parts of an exoplanet atmosphere, where high-energy radiation is observed," said Spake. "Hopefully, we'll be able to study many more upper planetary atmospheres this way."
While new telescopes such as the James Webb will make it possible to study exoplanet atmospheres in more detail, the fact that this can be achieved at all using existing telescopes is quite significant.
"The helium we detected extends far out to space as a tenuous cloud surrounding the planet," said study co-author Tom Evans from the University of Exeter.
"If smaller, Earth-sized planets have similar helium clouds, this new technique offers an exciting means to study their upper atmospheres in the very near future."
Source: Space.com | Comments (0)
Similar stories based on this topic:
Tags: Extrasolar Planet