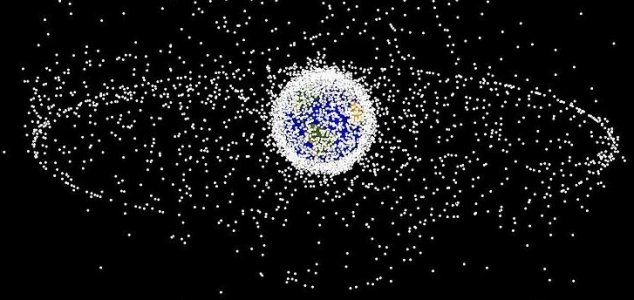 A space war could create an unprecedented amount of space debris.

Image Credit: NASA
As if space junk wasn't already enough of a problem, a war in space could litter the planet's orbit with tons of debris.
Satellites and spacecraft are already running a daily gauntlet of spent rocket stages, screws, bolts and other objects that currently encircle our world. As time goes on, the problem will reach the point at which it will be too risky to send anything else up in to space due to the risk of a collision.
But imagine how bad it could get if nations started blowing up each other's satellites - a possibility that is becoming increasingly likely as rival countries start arming themselves with space-based weapons.
As recently as January of this year, China has been testing a missile system designed to destroy satellites and last month President Trump revealed plans to establish a US space force.
Given that something as small as a fleck of paint can represent a threat to spacecraft, the remains of a space battle could litter Earth's orbit with so much debris that future missions will become impossible.
We may ultimately end up trapping ourselves on Earth for hundreds of years.
Source: News.com.au | Comments (16)
Tags: Space War, Space Junk