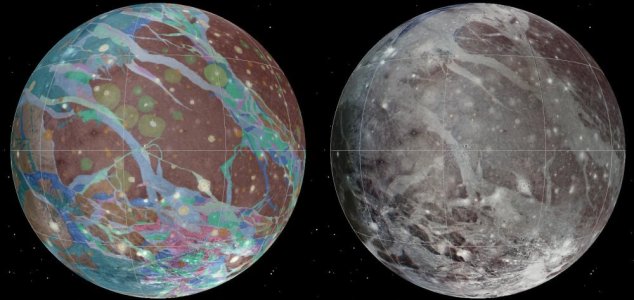 Ganymede is the largest moon in the solar system.

Image Credit: NASA / USGS
Jupiter's largest moon Ganymede is producing 'chorus waves' one million times more powerful than average.
The discovery was made by researchers who had been studying old data recorded by NASA's Galileo spacecraft which orbited Jupiter between 1995 and 2003.
These electromagnetic waves, which are found throughout the Jovian system, typically have an amplitude little more than that of the magnetic field produced by the human brain.
Around Ganymede however, the probe detected wave spikes over one million times higher.
It is believed that the intense radiation environment found around Jupiter may be responsible.
"This is a very interesting and fascinating finding," said lead study author Yuri Shprits of the GFZ Helmholtz Center Potsdam in Germany. "Just by having an object with a magnetosphere in the radiation environment, you can produce such strong waves."
One potential consequence of the discovery is the effect these intense waves may have on future spacecraft. The potential certainly exists for sensitive electronics to be impacted.
"Chorus waves have been detected in space around the Earth but they are nowhere near as strong as the waves at Jupiter," said study co-author Richard Horne of the British Antarctic Survey.
"Even if small portion of these waves escapes the immediate vicinity of Ganymede, they will be capable of accelerating particles to very high energies and ultimately producing very fast electrons inside Jupiter's magnetic field."
Source: Gizmodo | Comments (5)
Similar stories based on this topic:
Tags: Jupiter, Ganymede