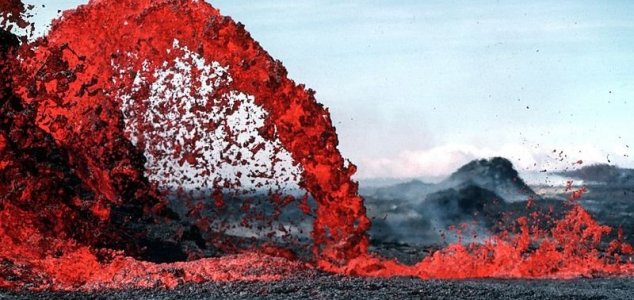 The event was undeniably devastating to life on our planet.

Image Credit: J.D. Griggs / USGS
A new study has determined how a volcanic eruption 205 million years ago wiped out 90 percent of all life on Earth.
Known as the End-Permian Extinction, this apocalyptic event, which was triggered by a vast volcanic eruption in what is now Siberia, was so devastating that it almost wiped out all life on Earth.
"The scale of this extinction was so incredible that scientists have often wondered what made the Siberian Flood Basalts so much more deadly than other similar eruptions," said study lead author Michael Broadley of the Center for Petrographic and Geochemical Research in France.
To find the answer, researchers analyzed samples of different types of rocks in order to determine the composition of the lithosphere, a region which lies between the Earth's crust and the mantle.
They determined that before the eruption, the lithosphere was filled with chlorine, bromine and iodine, but that after the eruption these elements seemed to have all but disappeared.
"We concluded that the large reservoir of halogens that was stored in the Siberian lithosphere was sent into the earth's atmosphere during the volcanic explosion, effectively destroying the ozone layer at the time and contributing to the mass extinction," said Broadley.
Source: Phys.org | Comments (5)
Tags: Great Dying, Extinction