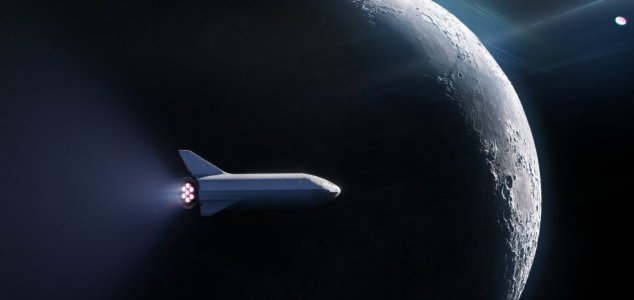 An artist's impression of the trip.

Image Credit: SpaceX / Elon Musk
The private space firm has revealed who will be flying around the Moon aboard its upcoming BFR rocket.
During an announcement at SpaceX's headquarters in Hawthorne, California on Monday, Yusaku Maezawa, a billionaire and online fashion tycoon, was revealed to be the mystery passenger.
He will also be joined by a group of up to eight artists that he will personally select for the trip.
"They will be asked to create something after they return to Earth," he said. "These masterpieces will inspire the dreamer within all of us."
Maezawa's groundbreaking voyage, which will be the first manned mission around the Moon since 1972, is currently planned for 2023 and will use the firm's new BFR (Big Falcon Rocket).
With a planned height of 118m and diameter of 9m, it will be the largest rocket ever built.
During its original unveiling, Musk had described the BFR as "an important step toward enabling access for everyday people who dream of travelling to space."
Although Maezawa, who is thought to be worth $3.6 billion, isn't exactly an 'everyday person', the launch of a private passenger around the Moon will still be a major achievement.
Source: BBC News | Comments (19)
Similar stories based on this topic:
Tags: SpaceX, BFR, Rocket