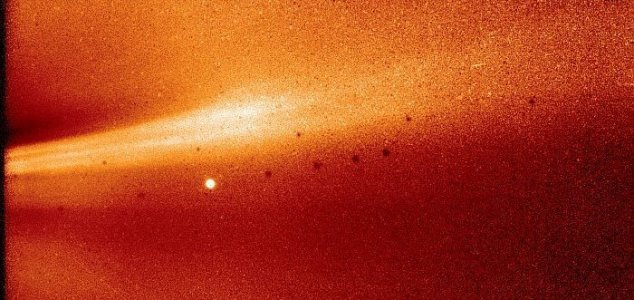 The picture is the first ever to be taken inside the Sun's atmosphere.

Image Credit: NASA
NASA's groundbreaking Parker Solar Probe has taken a close-up shot from inside the Sun's corona.
Taken at a distance of 16.9 million miles using the probe's WISPR (Wide-field Imager for Solar Probe) instrument, the impressive image shows two jets of solar material known as coronal streamers.
The bright spot near the center is the planet Mercury, while the dark spots are image artefacts from background correction.
"Coronal streamers are structures of solar material within the Sun's atmosphere, the corona, that usually overlie regions of increased solar activity," NASA wrote.
"The fine structure of the streamer is very clear, with at least two rays visible. Parker Solar Probe was about 16.9 million miles from the Sun's surface when this image was taken."
The spacecraft itself, which launched back in August, will ultimately complete a total of 24 loops around the Sun over the next seven years.
At its closest approach, it will venture a mere 3.83 million miles from the Sun's surface.
"We don't know what to expect so close to the Sun until we get the data, and we'll probably see some new phenomena," said project scientist Nour Raouafi.
"Parker is an exploration mission - the potential for new discoveries is huge."
Source: Science Alert | Comments (16)
Similar stories based on this topic:
Tags: Sun, Parker Solar Probe