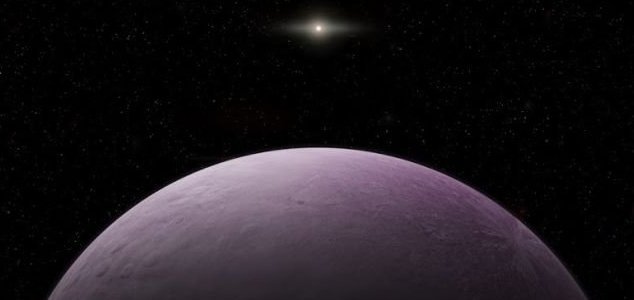 An artist's impression of Farout.

Image Credit: Roberto Molar Candanosa / Carnegie Institution for Science
Astronomers have identified the farthest known object in our solar system at a distance of 11 billion miles.
Known formally as 2018 VG18, this small icy world is situated 120 times further from the Sun than the Earth and takes somewhere in the region of 1,000 years to complete a single orbit.
It was discovered by Scott S Sheppard, David Tholen and Chad Trujillo - three astronomers who earlier this year had also discovered another minor planet known as
The Goblin
.
Identifying these distant objects is an important step towards finding the elusive
Planet X
- an as-yet undiscovered planet rumored to exist somewhere in the outer solar system.
"2018 VG18 is much more distant and slower moving than any other observed solar system object, so it will take a few years to fully determine its orbit," said Sheppard.
"But it was found in a similar location in the sky to the other known extreme solar system objects, suggesting it might have the same type of orbit that most of them do."
"The orbital similarities shown by many of the known small, distant solar system bodies was the catalyst for our original assertion that there is a distant, massive planet at several hundred astronomical units shepherding these smaller objects."
Farout
is thought to be spherical, around 500km across and made up primarily of ice.
It is also likely that there are countless other such objects out there, just waiting to be found.
Source: The Guardian | Comments (8)
Tags: Farout, Solar System