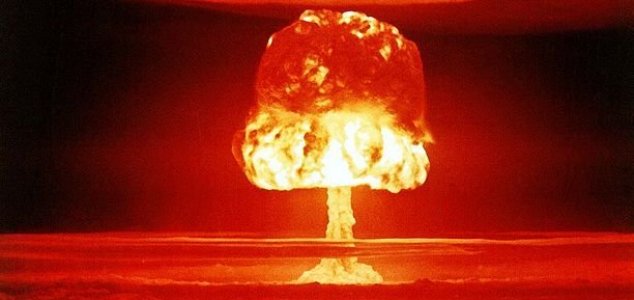 Chickens are the last thing you'd expect to find inside a nuke.

Image Credit: US Department of Energy
Back in the 1950s, scientists in the UK developed a nuclear mine that required live chickens to work properly.
The Cold War was responsible for bringing about a whole host of terrifying new nuclear weapon designs, however one in paricular was so bizarre that it's hard to believe that it was a real idea.
Known as Operation Blue Peacock, the project had aimed to place a nuclear landmine along the border with Soviet Russia to prevent a large-scale land invasion from taking place.
Capable of being triggered at a moment's notice, the mine would have proven particularly devastating, however there was a major catch that made it very difficult to use.
The problem was that because the mine was to be buried under the ground, it was very likely that the trigger mechanism would become so cold that it would no longer function.
To get around this issue, scientists came up with the rather bizarre idea to place a number of live chickens inside the bomb so that their body heat could keep the trigger from freezing up.
The birds were to be given enough seed to keep them alive and to stop them pecking at the wiring.
Unsurprisingly however, the idea did not go down too well. Not only was the use of chickens deemed to be an unreliable way of keeping the trigger working, but burying a nuclear mine in an allied nation was deemed unacceptable, especially given the potential for significant levels of fallout.
By 1958, the idea had been scrapped entirely.
Source: Wearethemighty.com | Comments (5)
Tags: Nuclear Mine, Chickens