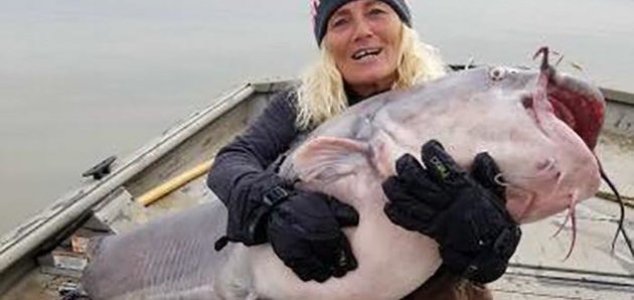 That is one gargantuan fish.

Image Credit: Paula Cathey Smith
A recently uploaded video shows grandmother Paula Cathey Smith reeling in an 88-pound giant.
The enormous fish, which was caught in Kentucky Lake on the border between Kentucky and Tennessee, has been dubbed 'River Monster' by the Tennessee Wildlife Resources Agency.
"Paula Cathey Smith shows us you can catch fish in the winter with this 'personal best' 88 pounder caught and released safely back into KY Lake," the organization wrote.
In the video, Smith and her husband can be seen struggling to even lift the huge fish.
"I never in my life seen a fish this big," she told the Huffington Post.
"My goal is to beat the state record of 112 (pounds)."
Source: Huffington Post | Comments (9)
Tags: Catfish