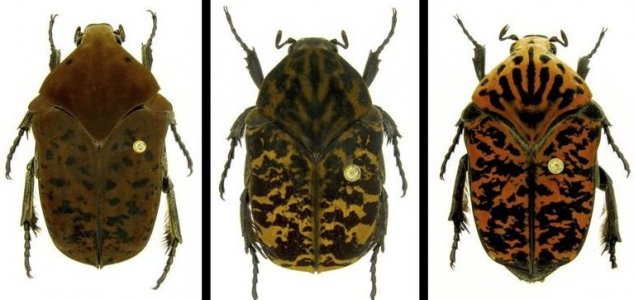 The new beetles are somewhat less dangerous than their namesakes.

Image Credit: Brett C. Ratcliffe
Three new species of scarab beetle have received names worthy of the 'mother of dragons' herself.
While these pint-sized insects won't be laying waste to whole armies with their fiery breath, their names do at least pay homage to Daenerys Targaryen's impressive brood.
The beetles, which are among 200 named by University of Nebraska-Lincoln entomologist Brett C. Ratcliffe over the last 50 years, have been given the names Drogon, Rhaegal and Viserion in celebration of their fictional counterparts in George R.R. Martin's fantasy epic.
Their full scientific names are
Gymnetis drogoni
,
Gymnetis rhaegali
and
Gymnetis viserioni
.
"We're still discovering life on Earth," said Ratcliffe. "One of every four living things on Earth is a beetle. We haven't discovered them all. We're not even close."
Source: Smithsonian Magazine | Comments (0)
Tags: Beetles, Game of Thrones, Dragons