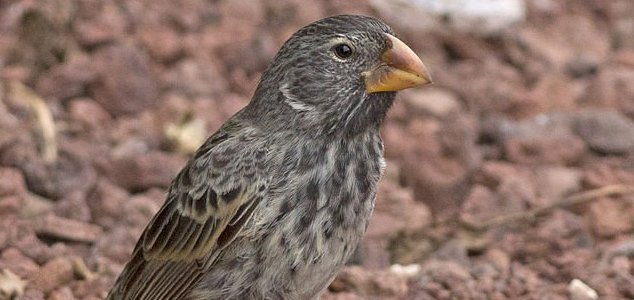 The bird is only around the size of a single T. rex tooth.

Image Credit: CC BY-SA 2.0 Lip Kee Yap
Pound-for-pound, the Galapagos large ground finch has a bite 320 times stronger than Tyrannosaurus rex.
In a new study, scientists used a supercomputer to calculate the bite force of 434 different birds, reptiles and mammals - both living and dead - in an effort to determine which was the strongest.
Remarkably, the winner turned out to be an unassuming species of finch native to the Galapagos Islands which, despite weighing a mere 33g, can put out an impressive 70 newtons of force.
In the wild, the bird uses its super-strong bite to crack open nuts and to crush seeds.
"The image of T. rex with its fierce jaws has helped it become the most iconic of dinosaurs, but our research shows its bite was relatively unremarkable," said study leader Dr Manabu Sakamoto.
"Bite force was not what gave T. rex its evolutionary advantage, as was previously presumed."
"Large predators like T. rex could generate enough bite force to kill its prey and crush bone just by being large, not because they had a disproportionately powerful bite."
"This counters the idea that an exceptionally strong need for a powerful bite drove these ancient beasts to evolve bone-crushing bite forces."
Source: Yahoo! News | Comments (2)
Similar stories based on this topic:
Tags: Bird, Bite, Tyrannosaurus