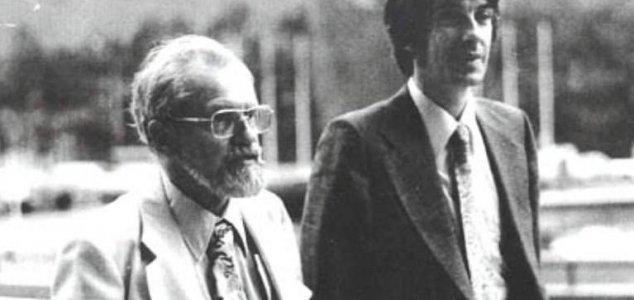 The real Dr. J. Allen Hynek (left) and Dr. Jacques Vallee (right).

Image Credit: US Government
A new History Channel series starring Game of Thrones' Aidan Gillen delves in to the secretive US UFO program.
The science-fiction series, which is airing now on 'History' (formerly 'The History Channel'), is the latest attempt to combine a TV drama with real-life events relating to the UFO phenomenon.
The actual Project Blue Book was an in-depth study of unidentified flying objects carried out by the US Air Force in the 1950s and 1960s. Its goal was to determine whether or not UFOs were a threat to the United States while also scientifically analyzing all known data about the phenomenon.
The new series stars Aiden Gillen ( Petyr Baelish in Game of Thrones ) as J. Allen Hynek - the astronomer and UFO researcher who originated the 'Close Encounter' UFO classification system and a scientific advisor to three US Air Force UFO studies including Project Blue Book.
In the series, Hynek joins Air Force officials to investigate UFO reports but quickly comes to the realization that his quest for the truth conflicts with efforts to cover up the phenomenon.
"UFOs are a mystery that's still unsolved at this point," said showrunner Sean Jablonski. "Once you open your mind up to the idea of the UFO phenomenon, then you have to ask 'Who's flying them?'"
"And then you have to talk about alien life. It unmoors you from a reality that most people live in their whole lives."
Source: Live Science | Comments (20)
Similar stories based on this topic:
Tags: Project Blue Book, UFO