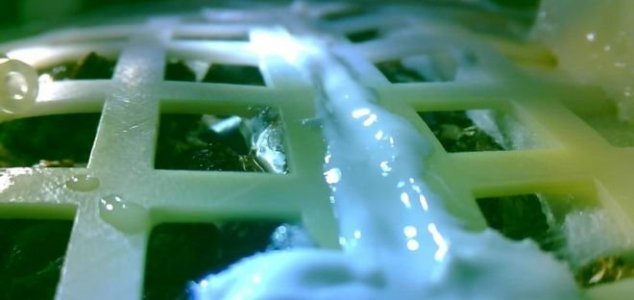 A glimpse of the world's first moon cotton.

Image Credit: CNSA / CLEP
In a world first, seeds carried to the Moon aboard China's Chang'e 4 spacecraft have actually started to sprout.
Contained within a sealed miniature biosphere along with air, water and nutrients, the seeds - which include cotton and potatoes - are the first ever to start growing on the surface of another world.
Up until now, the only seeds grown in space were on an orbiting space station.
The news marks another major success for Chang'e 4 which has already made history by becoming the first spacecraft ever to touch down on the far side of the Moon.
By demonstrating that it is possible to grow plants on the lunar surface, it has opened the door to the possibility of seeing humans living and working on the Moon for long periods of time.
"It suggests that there might not be insurmountable problems for astronauts in future trying to grow their own crops on the Moon in a controlled environment," said astronomer Fred Watson.
"I think there's certainly a great deal of interest in using the Moon as staging post, particularly for flights to Mars, because it's relatively near the Earth."
Experiment chief designer Prof Xie Gengxin was also optimistic about the achievement.
"We have given consideration to future survival in space," he said.
"Learning about these plants' growth in a low-gravity environment would allow us to lay the foundation for our future establishment of space base."
Source: BBC News | Comments (26)
Tags: Moon, Seeds, China