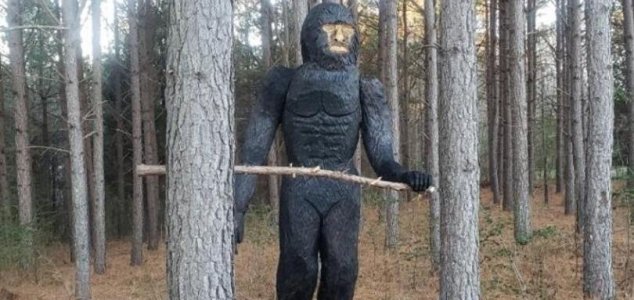 In the dark, this thing looks a lot more convincing.

Image Credit: Facebook / Davie County Animal Shelter
A new permanent resident of the North Carolina town of Mocksville has been raising more than a few eyebrows.
With its tall, dark appearance and glowing red eyes, the statue that stands on Pine Ridge Road in Davie County is so convincing that several people have mistaken it for the real thing.
While during daylight hours it is quite clearly a statue, during the night or in low light conditions it is quite possible to catch a glimpse of the red-eyed silhouette and mistake it for a real creature.
The statue is one of several wooden carvings found on private property in the Mocksville area.
Keen to avoid unnecessary calls from frantic witnesses, Davie County Animal Shelter has even put out a notice warning people about the figure and asking them not to report it to the authorities.
"This handsome fellow stands on Pine Ridge Rd. in Mocksville," the organization wrote. "If you are traveling this road at night, please be advised that the eyes appear to glow."
"If you see this phenomenon, you do not need to call animal control to report seeing Bigfoot, Sasquatch or any other large creature. Thank you."
Source: wkyt.com | Comments (17)
Tags: Bigfoot