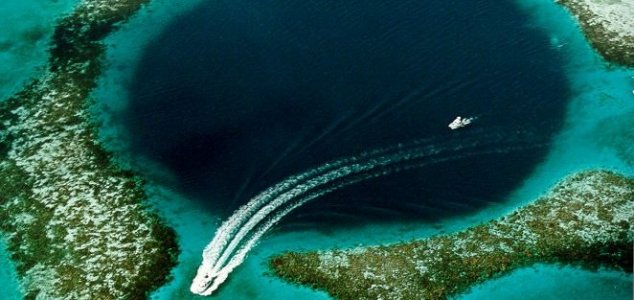 What lies at the bottom of the Great Blue Hole ?

Image Credit: USGS
A recent expedition to the depths of a giant marine sinkhole in Belize has revealed some intriguing finds.
The spectacular natural wonder, which appears from the surface as an anomalous round hole in the otherwise pristine tropical coastline near Belize City, has been a tourist attraction for years.
Last month, entrepreneur Richard Branson lead an expedition to reach the bottom of the hole in an effort to learn more about what lies within, as well as to find out how it came to form in the first place.
Together with conservationist and documentary-maker Fabien Cousteau, the expedition descended in to the hole in two three-man submersible vehicles with the support of two nearby vessels.
They found that the interior, which drops over 400ft straight down, contains a lot of stalactites - a feature that can only form on dry land - meaning that the hole was not always underwater.
"It is proof of how oceans can rise quickly and catastrophically," Branson wrote.
"Sea levels were once hundreds of feet lower. 10,000 years ago the sea level rose by about 300 feet when a lot of ice melted around the world."
"At 300 feet down you could see the change in the rock where it used to be land and turned into sea. It was one of the starkest reminders of the danger of climate change I've ever seen."
Due to the lack of oxygen in the hole there is no life at the bottom at all, however what the expedition did find was a lot of waste plastics such as bottles and containers.
"The real monsters facing the ocean are climate change - and plastic," said Branson. "Sadly, we saw plastic bottles at the bottom of the hole, which is a real scourge of the ocean."
Source: Lonely Planet | Comments (8)
Tags: Great Blue Hole