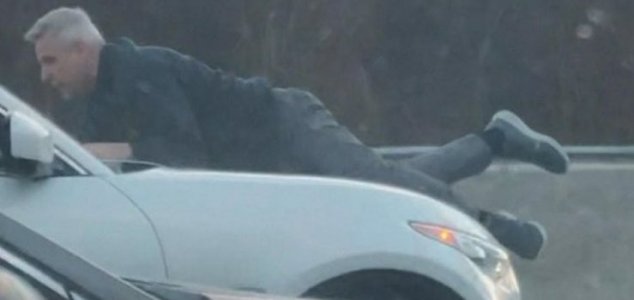 The man managed to hang on for miles as the SUV sped along the highway.

Image Credit: YouTube / Mrs Schur
A road-rage incident last week left one man holding on to the hood of an SUV on a highway in Massachusetts.
According to reports, 65-year-old Richard Kamrowski had gotten in to an argument with 37-year-old Mark Fitzgerald after the two suffered a minor crash in Weston on Friday afternoon.
Things soon escalated however as a few minutes later Kamrowski was spotted holding on to the hood of Fitzgerald's SUV for dear life as it belted down the highway at speeds of up to 70mph.
Witnesses managed to record footage showing the two men screaming at one another as Fitzgerald repeatedly slowed down and sped up to try and shake Kamrowski off the front of the car.
"I thought he was going to run over me," he said. "I just kept telling him to 'stop the car, stop the car' and he wouldn't stop. He kept going fast, slow, fast, slow tried to get me to slide off."
The incident eventually came to an end when members of the public boxed in the SUV and forced it to stop. One man even forced Fitzgerald out of the car at gunpoint.
"I'm just glad that the two people that surrounded the guy were there," said Kamrowski.
Fitzgerald was later charged with assault with a dangerous weapon while Kamrowski was charged with disorderly conduct.
Footage of the incident recorded by a witness can be viewed below.
Source: CBS Local | Comments (5)
Tags: Road Rage