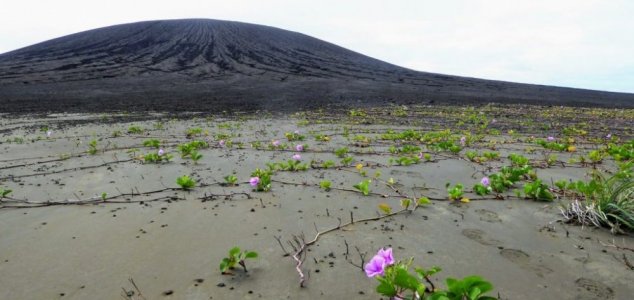 Plants have already started to take hold on the island.

Image Credit: NASA / Dan Slayback
A Pacific island that rose from the sea around three years ago has already been colonized by plants and birds.
Formed through volcanic processes in the ocean surrounding Tonga, the island has been of particular interest to scientists because it is one of the few new islands in the last 150 years to have lasted more than a few months, thus providing a unique opportunity for study.
Now, for the first time, NASA scientists have actually visited the island in person, revealing that seeds have already begun to grow there and colonies of birds have already started to roost.
Most intriguing of all was the discovery of a strange clay-like mud which has so far managed to defy explanation as it is unclear what it is made of or where it is coming from.
"In the satellite images, you see this light-colored material," said NASA's Dan Slayback. "It's mud, this light-coloured clay mud. It's very sticky. So even though we'd seen it we didn't really know what it was, and I'm still a little baffled of where it's coming from. Because it's not ash."
By studying the island's progress over the next few years, it will be possible to get a better understanding of how life takes hold on a newly-formed landmass.
The researchers believe that the island could ultimately last upwards of three decades.
Source: The Guardian | Comments (3)
Tags: Tonga, Island