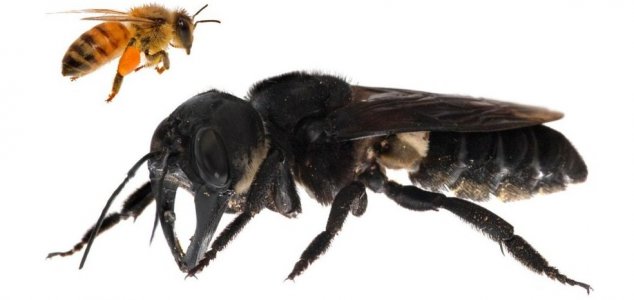 This species of bee is enormous.

Image Credit: YouTube / Australian Academy of Science / Clay Bolt
A gigantic species of bee thought to have gone extinct has been discovered alive and well on a remote island.
Known as Wallace's giant bee in homage to British naturalist and explorer Alfred Russel Wallace who first described it in 1858, this gargantuan species hadn't been seen since 1981.
Now though, a team of scientists on an expedition to the North Moluccas islands have revealed that this giant bee is still very much alive and well.
"It was absolutely breathtaking to see this 'flying bulldog' of an insect that we weren't sure existed anymore, to have real proof right there in front of us in the wild," said photographer Clay Bolt.
"To actually see how beautiful and big the species is in life, to hear the sound of its giant wings thrumming as it flew past my head, was just incredible."
With a wingspan of up to 6cm, these rare insects build their nests inside termite mounds.
It is hoped that the rediscovery of the species will lead to a renewed interest in protecting and studying the bees before they really do disappear for good.
"By making the bee a world-famous flagship for conservation, we are confident that the species has a brighter future than if we just let it quietly be collected into oblivion," said conservationist Robin Moore.
Source: BBC News | Comments (3)
Tags: Giant Bee