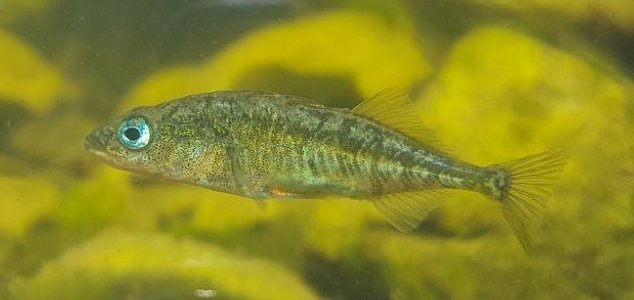 Sticklebacks are a very common species of fish.

Image Credit: CC BY-SA 4.0 Evan Baldonado
Researchers were surprised to discover that a fish nick-named 'Mary' had been carrying fertilized eggs.
Native to both fresh and coastal waters of the Northern Hemisphere, the three-spined stickleback typically reproduces when the female, having been lured to a nest by the male's dance routines, proceeds to lay her eggs and is then chased away, leaving the male to fertilize them.
In this case however, a female collected from the Outer Hebrides in Scotland appeared to be carrying eggs that had already been fertilized - leaving scientists scratching their heads.
"She looked like an ordinary egg-bound fish so we couldn't believe it when we found she had almost completely developed embryos inside her ovaries," said Dr Laura Dean.
"This is pretty much unheard of in an egg laying species. The embryos were perfectly healthy, not deformed in any way, and most have gone on to live a normal adult lifespan."
After conducting genetic testing on the offspring however, it became clear that there must have been a father - so how did the eggs become fertilized while still inside their mother's body ?
"What has probably happened is that she has gone into a nest to lay her eggs where another female had already laid her eggs which had been covered with sperm by a male stickleback," said Dean.
"Somehow some of the sperm in the nest must have got into Mary, presumably through her egg tube, and fertilised the eggs inside her but she never laid the eggs."
Efforts are now underway to determine if this was a complete fluke, or if the species is undergoing an evolutionary change that could account for this new behavior.
"Although this almost accidental find revealed a vanishingly rare phenomenon, it might help us to understand a really important change that has happened throughout the tree of life," said Andrew MacColl, Associate Professor of Evolutionary Biology.
Source: Science Daily | Comments (0)
Similar stories based on this topic:
Tags: Fish, Stickleback