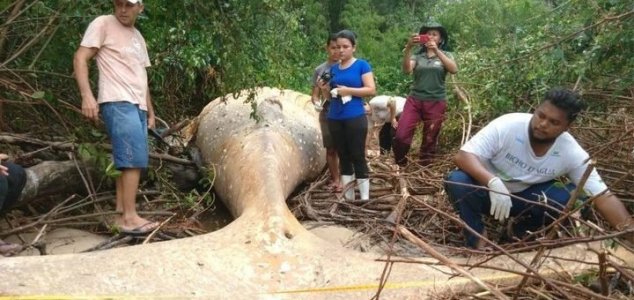 This is the last place you'd expect to find a humpback whale.

Image Credit: Facebook / Bicho D\'agua
A dead humpback whale believed to be a 12-month-old calf has unexpectedly washed up on Marajo Island.
The whale, which was discovered after scavenging birds were spotted flocking around its remains, could very well be the first humpback ever found washed up in the Amazon region.
It was found in the undergrowth approximately 15 meters from the shoreline.
According to the non-profit Bicho D'agua Institute, the unfortunate seaborne mammal was likely already dead long before it arrived on the island.
"We're still not sure how it landed here, but we're guessing that the creature was floating close to the shore and the tide, which has been pretty considerable over the past few days, picked it up and threw it inland, into the mangrove," said marine expert Renata Emin.
"Along with this astonishing feat, we are baffled as to what a humpback whale is doing on the north coast of Brazil during February because this is a very unusual occurrence."
Researchers have since taken samples from the whale in an effort to determine how it died.
Source: RadioNZ.nz | Comments (19)
Similar stories based on this topic:
Tags: Whale, Amazon