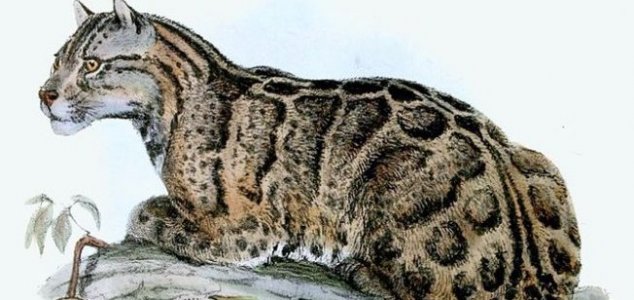 An illustration of a Formosan clouded leopard from 1862.

Image Credit: Joseph Wolf
Two separate ranger patrols have reported sightings of the Formosan clouded leopard in a remote forest region.
Unique to Taiwan, this elusive leopard species was thought to have gone extinct as far back as the 1980s with the last confirmed record being of a leopard skin found in the Taroko area in 1989.
Since then, camera traps set up to photograph any remaining individuals have all come up empty.
Now though, ranger teams from Alangyi Village in southeast Taiwan have reported sightings of what they believe to be live Formosan clouded leopards out in the wilderness.
One team spotted a leopard climbing a tree and later scrambling up a cliff side to hunt goats, while another was seen darting past a scooter before climbing up a tree and disappearing.
The village has since stepped up its efforts to investigate and to keep hunters away from the area.
The Taitung District Office of the Forestry Bureau has hailed the sightings as an "important development" and is currently working to confirm the sightings.
Given how elusive and difficult to track down the Formosan clouded leopard was even when it was known to be alive however, confirming its survival now certainly won't be an easy task.
Source: Taiwan News | Comments (4)
Tags: Formosan clouded leopard