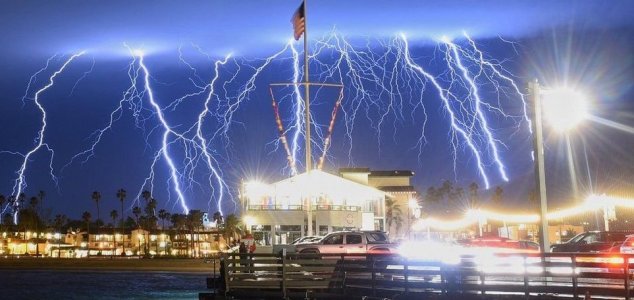 The Santa Barbara County Fire Department caught the lightning on camera.

Image Credit: Twitter / SBCFireInfo
Parts of Southern California were relentlessly hammered by bolt after bolt of lightning earlier this week.
The spectacular storm produced a positively apocalyptic display over Los Angeles with over 1,500 individual lightning strikes being recorded off the coast over a single five-minute period.
Those who witnessed the storm wasted no time getting out their phones and uploading photographs and video footage of the lightning strikes on to social media.
According to the National Weather Service's office in Los Angeles, a weather system known as an "atmospheric river" was responsible for the extreme lightning and heavy rain over the region.
"Atmospheric rivers are relatively long, narrow regions in the atmosphere - like rivers in the sky - that transport most of the water vapor outside of the tropics," the National Oceanic and Atmospheric Administration (NOAA) explains on its website.
"These columns of vapor move with the weather, carrying an amount of water vapor roughly equivalent to the average flow of water at the mouth of the Mississippi River. When the atmospheric rivers make landfall, they often release this water vapor in the form of rain or snow."
Some video clips of the lightning from across the state can be viewed in the news report below.
Source: Fox News | Comments (6)
Similar stories based on this topic:
Tags: Lightning, California