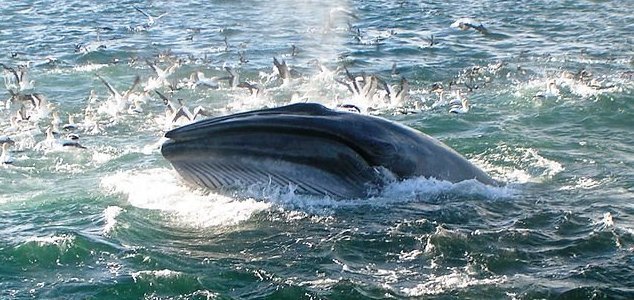 Bryde's whales feed on a variety of fish and sea creatures.

Image Credit: CC BY-SA 4.0 Aucklandwhale
Rainer Schimpf had been filming a sardine run when he inadvertently ended up in the mouth of a huge whale.
The 51-year-old had been snorkelling off Port Elizabeth Harbor, South Africa when a Bryde's whale - which had been feeding on the fish he was filming - accidentally tried to swallow him whole.
"I knew instantly what had happened," said Schimpf. "There was no time for fear or any emotion."
His wife and colleague, who were on a nearby boat, could do nothing but watch in horror.
"I felt enormous pressure around my waist which is when I guess the whale realized his mistake," said Schimpf. "As the the whale turned sideways, he opened his mouth slightly to release me and I was washed out, together with what felt like tons of water, of his mouth, while the whale himself was swallowing all the fish in his throat."
Remarkably, despite his ordeal, Schimpf was back in the water again a few minutes later.
"On our return in the evening Heinz checked his images and it was only once I saw them that I realized just how lucky I was to be looking at them," he said.
"Seconds decide if you become prey, seconds decide your survival and seconds are all that counts."
Source: Telegraph | Comments (11)
Similar stories based on this topic:
Tags: Whale