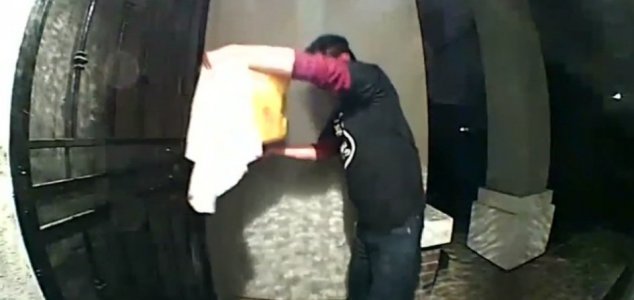 Fortunately for the occupants, the fuel never caught fire.

Image Credit: Stockton Police Department
A man in California has been arrested for arson after attempting to set fire to his neighbor's house.
The bizarre incident, which was caught on security camera on Thursday evening, saw a 38-year-old man empty a full canister of diesel all over his neighbor's front porch.
Fortunately, due to his choice of fuel, he was unable to get a fire started.
The house's occupants - a woman and two children - had been home at the time.
What made the situation particularly disturbing was the fact that the man had tried to explain his actions by insisting that he had seen a ghost inside the house and was trying to get rid of it.
He was ultimately charged with arson and attempted murder.
"They arrested him," said the homeowner. "He said that he didn't have anything against us, that he thought he saw a ghost in our house and to me that's just even scarier."
Source: ABC 7 News | Comments (7)
Similar stories based on this topic:
Tags: Ghost, Fire