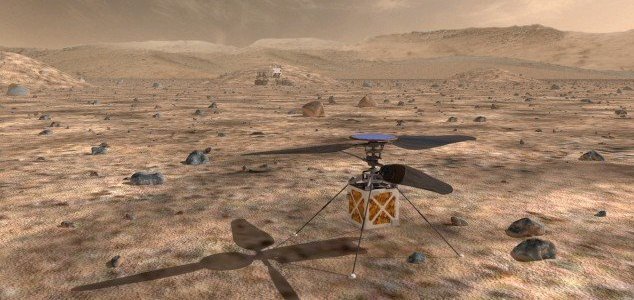 For the first time ever, a helicopter will be going to Mars.

Image Credit: NASA / JPL
The tiny chopper is set to become the first man-made aerial vehicle to fly through the skies of another world.
Flying a helicopter on Mars is particularly challenging, not least because its thin atmosphere - even at surface level - is equivalent to flying at an altitude of 100,000ft here on Earth.
To make it possible to fly on Mars, engineers at NASA, who have been working on the project for the last six years, have had to make the chopper extremely light and extremely strong.
At around the size of a softball, the helicopter will weigh a meager 4lbs and its rotor blades will spin at a whopping 3,000 rpm - that's ten times faster than those of a typical helicopter on Earth.
To avoid a command delay, the tiny vehicle will fly autonomously and undertake short flights of up to 90 seconds. It will be equipped with its own solar panels and batteries for heat and power.
NASA hopes to send it on a total of 5 flights, however it's possible that it could do more.
"Whatever the future holds for flight in our atmosphere, the skies above Mars, or over any other planet that's out there, we're ready to share the skills and expertise we've gained over decades of aeronautics research," said NASA's Susan Gorton.
Source: Astronomy Magazine | Comments (8)
Similar stories based on this topic:
Tags: Mars, Helicopter