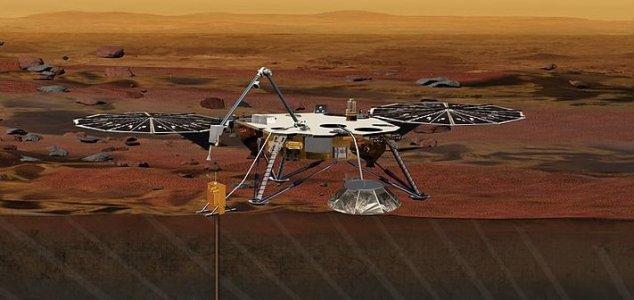 InSight landed on Mars in November 2018.

Image Credit: NASA/JPL
The space agency's InSight lander has successfully picked up a seismic event on the Red Planet.
The quake, which is the first ever to be detected on a planetary body beyond the Earth and the Moon, was picked up on April 6th using a seismometer placed on the surface by the probe's robotic arm.
Scientists believe that the seismic event was caused by either a meteor impact or movement within a crack deep beneath the surface.
"It's probably only a Magnitude 1 to 2 event, perhaps within 100km or so," said Professor Tom Pike. "There are a lot of uncertainties on that, but that's what it's looking like."
It is hoped that seismic readings from Mars will help to build up a picture of its interior.
"This particular Marsquake - the first one we've seen - is a very, very small one," said InSight mission chief scientist Dr Bruce Banerdt. "In fact, if you live in Southern California like I do, you wouldn't even notice this one in your day-to-life."
"But since Mars is so quiet, this is something that we're able to pick up with our instrument."
You can listen to what the seismometer picked up for yourself in the video below.
Source: BBC News | Comments (5)
Tags: Mars, InSight