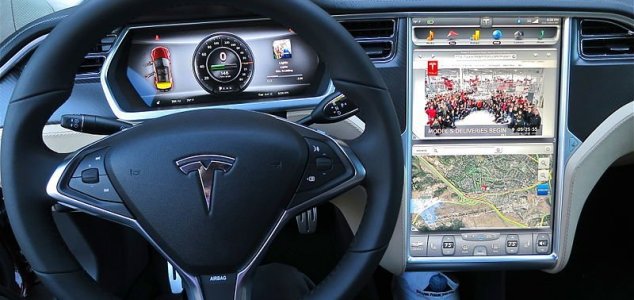 Would you allow your car to drive on its own ?

Image Credit: CC BY 2.0 Steve Jurvetson
The automotive and technology firm has revealed its plans for self-driving vehicles and automated taxis.
Tesla's cars, which are already fitted with a rudimentary form of autonomy thanks to a complex array of cameras, sensors and computer chips, are undoubtedly impressive, but taking things to the next level - the so-called 'level 5 autonomy' - is a goal that has so far failed to materialize.
Now though, Elon Musk and other senior figures from the company have revealed plans to do the seemingly impossible by implementing full autonomy in Tesla's cars by the end of next year.
According to the firm, the computer system responsible for controlling the vehicle will be capable of continuing even if one part of it fails - ensuring that accidents due to component failures are avoided.
Musk has also outlined plans for privately owned Teslas to be recruited in to a robo-taxi service that would enable the owner to effectively earn money without having to do anything.
But just how good is this self-driving technology and can it be completely trusted ?
It remains unclear how the cars will deal with problems such as cyclists swerving in front of them, road works with manual traffic signals or children unexpectedly running out on to the road.
If the technology goes live too soon and an accident occurs, it could set the company back years.
Source: Extreme Tech | Comments (13)
Similar stories based on this topic:
Tags: Tesla, Elon Musk, Self-Driving Car