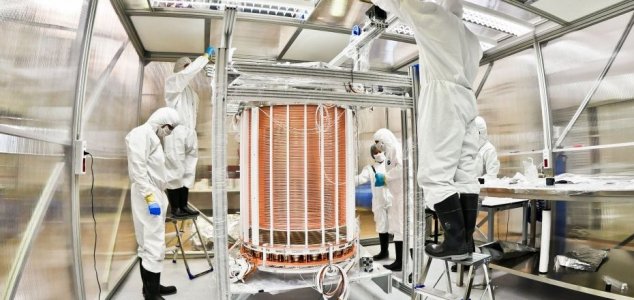 The XENON1T Time Projection Chamber.

Image Credit: XENON Collaboration
An extremely rare event has been observed by scientists working on unraveling the mysteries of dark matter.
The discovery centers around the radioactive decay of xenon-124 - a process that is so ridiculously slow that it takes more than one trillion times the age of the universe.
The opportunity to see this decay in action therefore is unbelievably rare.
The breakthrough was made by researchers at the XENON dark matter research project which uses an instrument known as XENON1T to help find direct evidence of dark matter.
The facility is located 500 meters beneath the Gran Sasso mountains in Italy and the instrument itself is buried in water to help shield it from cosmic rays. The goal of this setup is to observe the interaction between dark matter atoms and the nucleus of the xenon atoms inside the detector.
What the researchers saw in this case however was a proton inside the nucleus of a xenon atom changing in to a neutron - an event described as "a rare thing multiplied by another rare thing."
"We actually saw this decay happen," said study co-author Ethan Brown.
"It's the longest, slowest process that has ever been directly observed, and our dark matter detector was sensitive enough to measure it."
Source: Independent | Comments (9)
Tags: Xenon