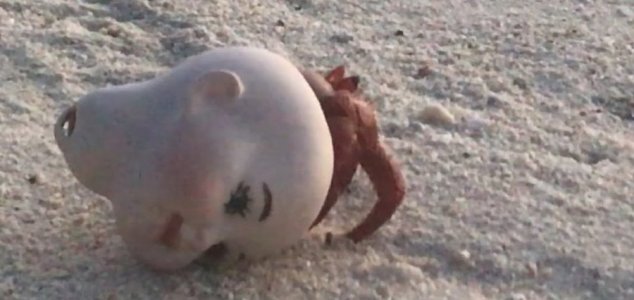 The crab was filmed crawling along the beach with the doll's head in tow.

Image Credit: Joseph Cronk
A hermit crab with an unusual taste in shells was recently filmed picking up a rather sinister alternative.
The unsettling scene was captured on camera along the shoreline of Wake Island in the western Pacific Ocean by volunteer Joseph Cronk who had been collecting trash on May 10th.
Hermit crabs are known to set up home inside the discarded shells of other sea creatures, however when options are sparse they can sometimes pick up other objects to use as a shell instead.
This particular crab seemed to have decided upon using the head of a child's doll as its new home.
The footage helps to highlight the extent to which plastic waste has made its way in to every part of the ocean's ecosystem - even to the point where some species are literally living inside of it.
"I see a lot of these crabs exchanging their shells for many things," said Cronk. "Film canisters and soda cans are pretty common. But this one really gets the point across."
Source: MSN.com | Comments (5)
Tags: Hermit Crab, Doll