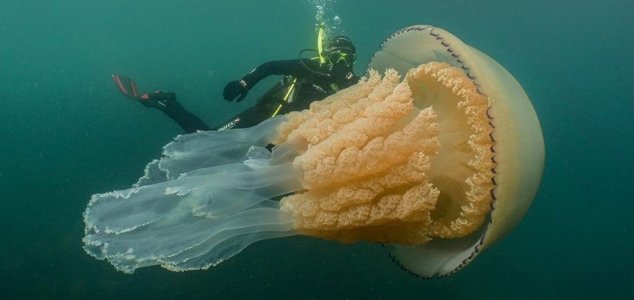 The huge animal was certainly impressive.

Image Credit: Facebook / Lizzie Daly / Dan Abbott
Two divers exploring the waters off the coast of Cornwall, England came across something rather spectacular.
The enormous gelatinous sea creature was encountered on Saturday by biologist Lizzie Daly and underwater cinematographer Dan Abbott during a week-long celebration of Britain's wildlife.
Thought to be a barrel jellyfish, the huge animal was filmed gliding silently through the depths. The species is not harmful to humans and is the largest jellyfish found off the coast of the UK.
Daly described the experience of swimming alongside it as "humbling."
"I went to have a closer look, only to be surprised by how enormous it was," she said.
The pair swam alongside the jellyfish for about an hour before it disappeared off into the gloom.
Source: Live Science | Comments (6)
Tags: Barrel Jellyfish