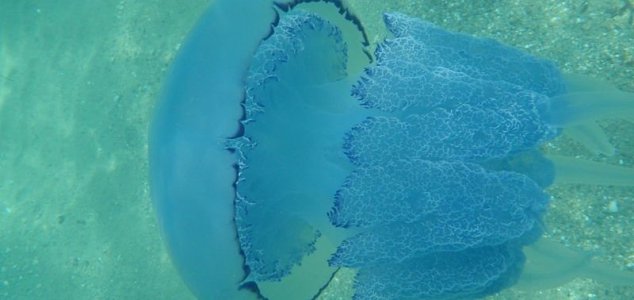 Barrel jellyfish are commonly found in the Atlantic.

Image Credit: CC BY 3.0 David Patras
Hundreds of large barrel jellyfish have been washing up on beaches along the British coastline this week.
The gelatinous sea creatures were spotted in record numbers on the beaches at New Quay, Pembrokeshire, Tenby, Saundersfoot and Newport.
"This is definitely a mega swarm, I have never seen them this big before," said Sarah Perry, a science officer at the Cardigan Bay Marine Wildlife Center.
While it is not unusual for jellyfish to wash up along the shoreline, their numbers have increased significantly this year because milder winters have enabled their food source, plankton, to thrive.
"I've been holidaying here for 40 years and I've never seen this before," said Wilson Dyer, a holidaymaker from Suffolk who had been visiting the area.
"They're all the way up the coast. It's intriguing, it looks like they all keeled over at the same time."
While the jellyfish aren't thought to be poisonous, authorities have advised people not to touch them.
"While they're relatively harmless they can, if touched, leave you with a rash similar to what you may get after touching a stingy nettle," said Perry.
Source: BBC News | Comments (3)
Tags: Jellyfish