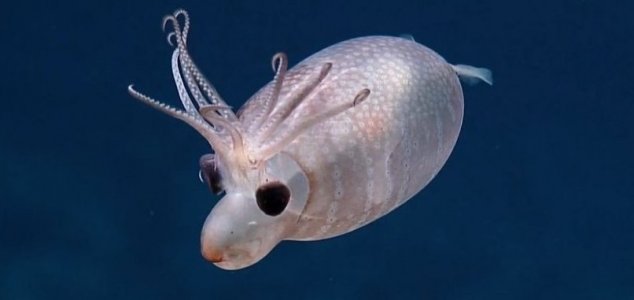 The squid remained stationary for over a minute.

Image Credit: YouTube / EVNautilus
Footage of the unusual cephalopod was captured in the Pacific depths by the Exploration Vessel Nautilus team.
The transparent sea creature, which was filmed near Palmyra Atoll, has a rather unique appearance with a siphon that looks almost like a snout and tentacles that resemble strands of hair.
Known officially as
Helicocranchia sp.
, the 'piglet squid' was found at a depth of 1,385 meters.
"The Nautilus team enjoyed a quick close-up with a see-through piglet squid, named for its large siphon that looks like a snout," the team wrote.
"Able to regulate buoyancy with an ammonia-filled internal chamber, this stunning squid is often observed with its tentacles flared above its head."
Source: rte.ie | Comments (10)
Tags: Nautilus, Squid