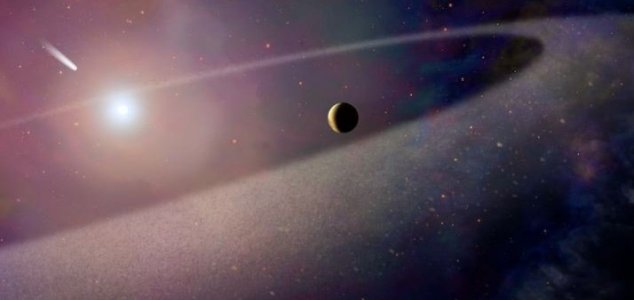 A white dwarf is the ultimate fate of most of the stars in the universe.

Image Credit: NASA
Astrophysicists have discovered a way to detect the surviving cores of planets orbiting white dwarf stars.
Upon exhausting all their fuel, most stars in the universe (those of 10 or fewer solar masses) will ultimately shed their outer layers, leaving behind a small, dense core known as a white dwarf.
When this happens, the process will typically also destroy the outer layers of any planets in the vicinity, however according to a new study, the surviving cores of these orbiting worlds may still emit radio waves, thus enabling astronomers here on Earth to detect them.
"Nobody has ever found just the bare core of a major planet before, nor a major planet only through monitoring magnetic signatures, nor a major planet around a white dwarf," said study leader Dimitri Veras from the University of Warwick.
"Therefore, a discovery here would represent 'firsts' in three different senses for planetary systems."
According to the study, the magnetic field between a white dwarf star and a surviving planetary core can form what is known as a unipolar inductor circuit.
This, in turn, can produce radiation that emits as radio waves.
"There is a sweet spot for detecting these planetary cores: a core too close to the white dwarf would be destroyed by tidal forces, and a core too far away would not be detectable," said Veras.
The hunt is now on to detect the first distant planetary core using this method.
Source: Space.com | Comments (1)
Similar stories based on this topic:
Tags: Extrasolar, Planet